DEVELOPER MANAUAL
UNIFIED IDENTITY
The purpose of this document is to create, configure and run Unified Identity Core project. It is assumed that you already created Unified Projects account prior purchasing.
---
Created: 19 Jan, 2020
Update: 12 September, 2021
If you have any questions that are beyond the scope of this help file, Please visit Unified Website.
---
DOWNLOAD THE PROJECT
For new customers, follow the steps below to download the source code:
Go to https://www.unifiedprojects.net/Pricing.
Complete the payment process.
The package will be downloaded automatically.
For registered customers, follow the steps below to download the source code:
Login to www.unifieprojects.net with your username and password and go to the download page under my account menu. Select Unified Identity Core project and click on the download button.
The project will be downloaded as a zip file. When you extract the zip file you will see two folders:
aspnet-core folder which contains the server-side solution which is written using ASP.NET Core solution and configured to run on Visual Studio.
angular folder contains the client-side solution which is written using angular and configured to work with the angular-cli.
Please note that the client and server solutions are designed to work separately.
---
PREREQUISITES
Back End
Front End
---
ASP.NET CORE SOLUTION
The backend ASP.NET Core solution is structured using Clean Architecture and it consists of the following projects:
UnifiedIdentity.WebAPI
UnifiedIdentity.Infrastructure
UnifiedIdentity.Application
UnifiedIdentity.Domain
UnifiedIdentity.Shared
UnifiedIdentity.Logger
NoteMake sure that UnifiedIdentity.WebAPI is set as startup project then build the solution.
---
SETTING UP THE DATABASE
CONNECTION STRING
Open appsetting.json in UnifiedIdentity.WebAPI and you will find the following connection string:

You can change the default connection string according to your project requirements.
MIGRATIONS
Open Package Manager Console in Visual Studio and set UnifiedIdentity.Infrastructure as the Default Project and run update-database command.

Once you run the solution from Visual Studio for the first time, the seeder service will be executed only once to seed the database with required initial data.
RUNNING THE APPLICATION
You can run the server-side application once you've done the configuration. The server-side application only contains the RESTful APIs that can be consumed via Swagger UI.
SWAGGER
Swagger is an open-source tool built around the OpenAPI Specification that can help you build, document and consume REST APIs.
Each time you run the application you will see a page like below: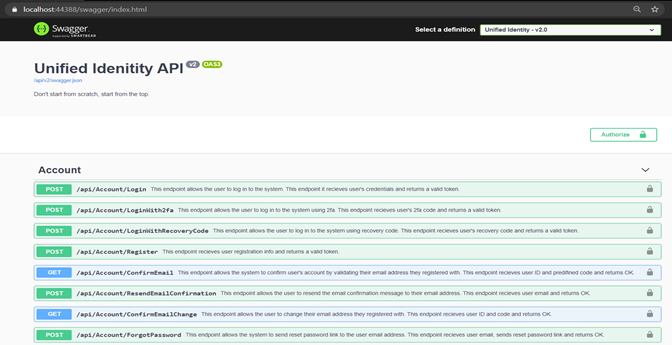 ---
ANGULAR APPLICATION
RESTORING PACKAGES
Navigate to the angular root folder then open the command line from windows explorer and run the following command to restore the packages:
npm install
RUNNING THE APPLICATION
Run the following command in order to run the application::
ng server -o